Search by Tag
Quick Find Maid

Rest Day Preference
0-1 rest days per month
Date of Birth
15/06/1982 (age: 37 yrs)
Height/Weight
154 cm / 63 kg
Children
4 (age 8,14,16,17)
Education
High School (10~12 yrs)
Language Skill
English (Fair, 0 yrs)
MYANMAR (Excellent, 0 yrs)
Preference/Aptitude
& Experience
| | | |
| --- | --- | --- |
| Care for Infant/Children | | - |
| Care for Elderly | | - |
| Care for Disabled | | - |
| General Housework | | - |
| Cooking | | - |
Other Information
| | |
| --- | --- |
| Able to handle pork? | |
| Able to eat pork? | |
| Able to handle beef? | |
| Able to care dog/cat? | |
| Able to do gardening work? | |
| Able to do simple sewing? | |
| Willing to wash car? | |
Working Experience
| | |
| --- | --- |
| Home Country | 2 yr |
| Singapore | 1 mo |
Maid Introduction
MYANMAR / CHILD CARE / HOUSEKEEPING
Rosy Khin 37 years old married with 4 children. Experienced to her hometown. Confident in general housekeeping and willing for child/elderly care. Can speak fair in English.
able to look after infant/children like change diaper, prepare milk, sterelise milk bottles, dressing, send/fetch children from shool, bring to playground etc.

willing for elderly caring/bedridden or mobile; she can carry elderly, change diaper, prepare meals and feed, give medicine

able to cook Myanmar food, willing to learn other dishes.

able to take care pets.
She has been working in singapore for one month.
Can interview in whatsapp videocall by arrangement
Apple Maid Agency
License: 09C3415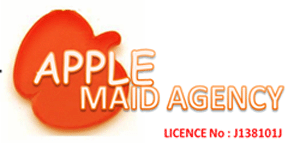 License#
09C3415
Email
apple.maid@yahoo.com
Website
https://apple.netmaid.com.sg

---

Main Office
545 Orchard Road
#03-05 Far East Shopping Centre
Singapore 238882
Opening Hour
10am to 6pm Daily
(Closed on public holiday)
Tel
62359255 / 62620010
Fax
62620010
Email
Apple.maid@yahoo.com
Contact
Mary ann / Dilnawas / Suzette
84161189 / 98825410 / 90962879
EA Personnel
Mateo Mary Ann Oliviano (R1653785)
Dilnawas Abdullah (R1104852)
Oligo Suzette Legaspi (R1108425)

---

Branch
865 Mountbatten Road,
B1-107 , Katong Shopping Center,
Singapore - 437844
Opening Hour
10:00am to 6:00pm ( Daily )
Closed on Public Holidays
Tel
64409308
Fax
64409309
Email
apple.maid@yahoo.com
Contact
Yati / Suzette
81711556 / 90962879
EA Personnel
Maryati Binte Mohamed (R1545897)

---

Branch
140 Upper Bukit Timah Road
02-20 Beauty World Plaza,
Singapore - 588176
Opening Hour
10am - 6pm Daily ( Closed on PH)
Tel
69099495
Fax
64409309
Email
apple.maid@yahoo.com
Contact
Suzette
90962879
EA Personnel
Ng Bee Chin (R1106985)
Teo Aye Cheng (R1106984)
Last updated on 2020-05-20 14:18:30 +0800