Search by Tag
Quick Find Maid

Rest Day Preference
1 rest days per month
Date of Birth
09/02/1979 (age: 39 yrs)
Height/Weight
154 cm / 58 kg
Children
3 (age 23,14,12 YRS OLD)
Education
Secondary level (8~9 yrs)
Language Skill
English (So-so, 0 yrs)
Bahasa Indonesia/Malaysia (Excellent, 0 yrs)
Preference/Aptitude
& Experience
| | | |
| --- | --- | --- |
| Care for Infant/Children | | - |
| Care for Elderly | | - |
| Care for Disabled | | - |
| General Housework | | - |
| Cooking | | - |
Other Information
| | |
| --- | --- |
| Able to handle pork? | |
| Able to eat pork? | |
| Able to handle beef? | |
| Able to care dog/cat? | |
| Able to do gardening work? | |
| Able to do simple sewing? | |
| Willing to wash car? | |
| Willing to work on off days with compensation? | |
Maid Introduction
Amirah is a cheerful and honest person who has worked as domestic helper in Malaysia
1998-2000 SELANGOR, MALAYSIA
She worked for a Chinese family
Mdm, Sir, Ah Ma and 2 children aged 17 and 22
1 storey house
General household chores and assisted Ah Ma in cooking
2000-2003 SELANGOR, MALAYSIA
Worked for a Chinese family
Mdm, Sir, Ah Ma and 1 girl aged 8
1 storey house
General household chores, assisted Ah Ma in cooking, took care of the 8 year old girl, fetched the girl to school
08/09/2017 to 04/12/2017, Singapore;-
MALAY FAMILY
MDM, SIR, AH MA, EMPLOYER'S MOTHER AND 4 CHILDREN (GROWN UP)
4 ROOMS FLAT AT SENGKANG
GENERAL HOUSEHOLD, BUYING GROCERIES AND ASSISTED AH MA IN COOKING.
04/12/2017 to present, Singapore;-
WORKED FOR CHINESE FAMILY.
2 PERSONS IN THE HOUSE ; SIR & MADAM.
3 ROOMS FLAT.
GENERAL HOUSEHOLD CHORES, COOKING AND TOOK CARE OF THE MADAM (SUFFERED FROM INJURY (RIGHT ANKLE).
For details please call 67346 682/6566 8582, Thank you.
Home Sweet Home Professional Recruitment Agency
License: 97C3621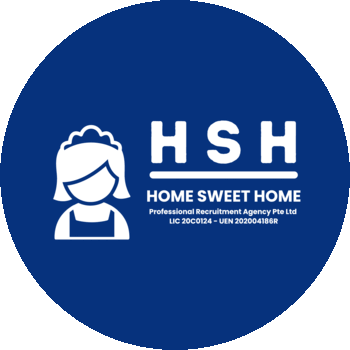 License#
97C3621
Email
enquiries@hshrecruitment.com
Website
https://hsh.netmaid.com.sg

---

Main Office
304 Orchard Road,
#03-74, Lucky Plaza
Singapore 238863

Opening Hour
Monday to Friday : 10:30am to 7:00pm
Saturday : 10:30am to 5:00pm
Sunday : 11.00am to 4:00pm
Tel
67346682
Fax
67386679
Email
enquiries@hshrecruitment.com
Contact
Lau Yoke Ling (Reg R1103297), Lisa Harjanto (R1103611)
67346682
EA Personnel
Lau Yoke Ling (Reg R1103297)
Cheong Purificacion Antonia (Reg R1440943)



---

Branch
170 Upper Bukit Timah Road
#01-02 Bukit Timah Shopping Centre
S588179
Opening Hour
Monday to Friday : 10.00am to 7.00pm
Saturday : 10.00am to 5.00pm
Tel
65668582
Fax
67386679
Contact

65668582
Last updated on 2018-07-21 11:14:43 +0800