Quick Find Maid

Base Salary
S$480 with 4 rest days per month
Rest Day Preference
1 rest days per month
Date of Birth
11/07/1990 (age: 26 yrs)
Place of Birth
Khuangleng
Height/Weight
152 cm / 41 kg
Education
High School (10~12 yrs)
Language Skill
English (Fair, 0 yrs)
MIzo (Excellent, 0 yrs)
Preference/Aptitude
& Experience
| | | |
| --- | --- | --- |
| Care for Infant/Children | | - |
| Care for Elderly | | - |
| Care for Disabled | | - |
| General Housework | | - |
| Cooking | | - |
Other Information
| | |
| --- | --- |
| Able to handle pork? | |
| Able to eat pork? | |
| Able to handle beef? | |
| Able to care dog/cat? | |
| Able to do gardening work? | |
| Able to do simple sewing? | |
| Willing to wash car? | |
| Willing to work on off days with compensation? | |
Maid Introduction
LALREMSANGI is 24 years old and single. She has 1 year working experience in Singapore with 2 families. For her 1st employer her main duties is looking after an elderly Ah Ma aged 85 years old. She need to do the household chores as well such as washing, ironing, general cleaning and cooking. She knows how to cook simple Myanmar and chinese dishes. She's work for her 2nd employer because Ah Ma passed away and her employer doesn't need a maid.
With her 2nd employer besides doing all the general houseld work she still need to go to the family's factory and work.
She is willing to work hard and improve herself to meet her potential employer's requirement.
Maid Capital & Employment Agency Pte Ltd
License: 15C7562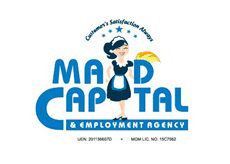 License#
15C7562
Email
maidcapital@singnet.com.sg; tm.maidcapitalea@gmail.com
Website
http://maidcap.netmaid.com.sg

---

Main Office
545 Orchard Road,
#01-08 Far East Shopping Centre,
Singapore 238882
Opening Hour
Tuesday to Friday : 11:00 am to 7:00 pm
Saturday & Sunday : 11:00 am to 4:00 pm
Closed on Monday & Public Holidays
Tel
6734 7888
Fax
6734 7788
Email
maidcapital@singnet.com.sg
Contact

6734 7888

---

Branch
5 Tampines Street 32,
#02-15 Tampines Mart,
Singapore 529284
Opening Hour
Monday to Friday : 10:30 am to 7:00 pm
Saturday : 10:30 am to 4:00 pm
Closed on Sundays and Public Holidays
Tel
6786 1786 / 67861613
Fax
6786 2786
Email
tm.maidcapitalea@gmail.com
Contact
Ida
6786 1786
EA Personnel
Ida (R1103339 )

---

Branch
170 Upper Bukit Timah Road,
#01-02 Bukit Timah Shopping Centre,
Singapore 588179
Opening Hour
Monday to Friday : 12:00 am to 8:00 pm
Saturday and Sunday : 12:00 am to 5:00 pm
Closed on Tuesdays & Public Holidays
Tel
6681 6770
Fax
6466 3786
Email
bt.maidcapitalea@gmail.com
Contact
Jamilah
6681 6770
EA Personnel
Jamilah (R1655780)

We are committed to provide our clients with the best service.

We will exercise due diligence in ensuring that the documentation
procedure for the FDW is adhered to strictly.

We will always be truthful, fair and transparent in our
advertisements, our fees and charges, our Service Agreements and our
handling of any issues arise pertaining to our FDWs.

Last updated on 2016-05-31 12:05:35 +0800